IT DOESN'T GET ANY BETTER THAN THIS! Uncensored and off the hook, Cherrie & Derrick are a riot as they look back on their recent wedding video. Video production by Marc Gold of 24KT Sound & Video, San Pedro, CA. Read more about their story at www.24ktsound.com/blog.
Enthusiastic newlyweds, Samantha and Ernesto, reflect on their experiences with south bay wedding videographer, Marc Gold, of 24KT Sound & Video. Beautiful shots from their ceremony embellish this 2 minute clip. Reception was at the Norris Pavilion in Rolling Hills Estates.
Thanks, Sam & Ernesto, for this great testimonial: "My husband and I chose Marc of 24Kt Video for our wedding March 12, 2016. We are incredibly happy with his work and the outcome of our wedding video. He was very easy to work with and we loved how he shot our wedding. We met him at the Harlyne J. Norris Pavilion where our wedding reception was going to be held. He was there for a wedding fair that we attended. From 1st impressions he was easy to talk to and didn't try and pressure us to give him business. We instantly knew he would be awesome to work with! We contacted him shortly after and we have no regrets. He is very passionate about not just quality but also capturing all the best moments of your special day. He has a great vision and we would highly recommend his business to anyone! He got our video ready very quickly also without cutting any corners. He went above and beyond and we couldn't be happier! Thank you Marc! We now have memories for a lifetime!" – Samantha & Ernesto
Miguel & Cristina's wedding at the Wayfarers Chapel and reception at Portofino in Redondo Beach, CA. began with video of the couple getting ready at their hotel. A highlight of those moments is in our wedding and special events video gallery for you to enjoy. Special thanks to the couple for their kind testimonial.
Lisa and Doug Rodriguez reminisce about their wedding video and how it's grown in importance over the years. We recently completed a life history video for Lisa's grandfather combining photos and a video clip of "Wayne" that was recorded at the couple's wedding. I had to grab a box of Cleanex for Lisa when she watched the video for the first time at my studio.
Our Clients Write:

"Marc…WOW!!! This video far exceeded our expectations. We are totally blow away with the work you did on our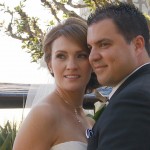 DVD. Hats off to you sir! This was truly a well made video! WOW! WOW! WOW! Thank you so very much. Sincerely, Fernando Burruss.
  Our video was a huge success! There was laughter, a few tears and genuine disappointment when it came to a close because they all wanted more. Kathy could not have been more pleased. She loved it all, but especially the "lone Ranger" her boys and the "Logo Tree (see the video)." Warm regards, Debbie. (Watch the Logo Tree segment now)
 "Marc…I don't even have the words to describe how much we LOVE IT! We just watched it a second time today and tears were flowing! I can't thank you enough for capturing the best day of our lives and doing such a great video. It's better than I could have ever imagined. Thanks so much! We love love love love it!! Johnnya BURRUSS!!!"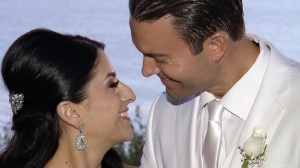 "Hi Marc, I just wanted to write and let you know how pleased I was with all of your help this morning. I was having trouble viewing my wedding DVD's and really thought they needed to be replaced. I called you and promptly set up a meeting for the next day and solved the problem; the discs just needed to be cleaned…After cleaning them you checked and re-checked them just to make sure, and burned me three new discs with original labels at absolutely no charge. Your years of business experience and high level of professionalism were clearly evident in your easy handling of my concerns. I won't hesitate to recommend 24KT Sound & Video to anyone who asks. All the best! Brian More, Rancho Palos Verdes, CA."
Hi, Marc.
Everything went very very well. The video was the hit of the evening and David was overwhelmed. I cannot tell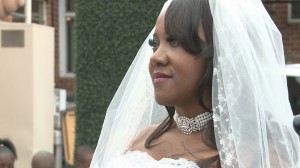 you how many of our guests commented on how well done it was and how much they enjoyed watching it. (This was a 50th birthday photo/video montage). Thank you so very much for all your patience, your expertise and your attention to detail. It combined to make a truly professional video that we were proud to show. It was fun working with you. Your work is fabulous. Please feel free to use my name should anyone want a reference. You can be sure I will call upon your many talents again! Warm regards, Debbie Conlon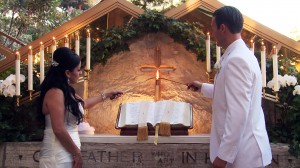 Wow!!!!!!! We are absolutely thrilled and delighted with our wedding Video! The video recording, soundtrack, and most of all the creative editing was so amazingly well done it appeared to be a commercial grade production! That's why we chose 24kt Sound & Video. Thank you Marc for using your creative editing skills and making our wedding an amazing video production that our family will enjoy for generations! In Blue Ray! Warmest Regards, Mr & Mrs Hernandez
    Dear Marc, Thank you for the wonderful job you did on our wedding video. We absolutely loved it! You have such a great eye for detail and got every moment we would have picked. Thanks to you we will always be able to relive our wedding day by watching our video. Thank you, Millie and Marco  
I contacted Marc about 3 weeks before my dad's 80th birthday to see if he would be able to capture the event on film. He responded right away and was so supportive to our wishes. The night of the event, Marc was punctual, professional and made an effort to include the special moments and interviews with family members.The video turned out amazing! Marc did an incredible job capturing the mood and his editing skills are incredible! He is truly an artist in the scenes that he captures and how he brings the whole finished product together. I would recommend Marc without reservation and encourage anyone who wants to preserve a special event forever to use 24KT Sound and Video! –  Diane