Finding the Right Videographer – Busting the Myths
1. Other people know what I want or need better than I do. MYTH. Even if this is the first time you're hiring a videographer you'll know what's right for yourself when you see it, so be sure to look at the video galleries. Even your best friend's referral or an article in a bridal magazine is just a reflection of what someone else liked. You may be more particular or looking for something entirely different.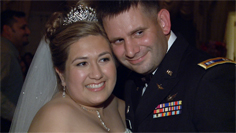 Recommendation: look at the work and see how you feel. Video is supposed to be an emotional experience. If you feel good about what you're watching, you're probably on the right track. On the other hand, if you're thinking OMG what is this?! Keep looking.
2. The editor will fix everything. MYTH. Experience behind the camera matters. You can't make a good video out of poor footage. From time to time I edit for other production companies that send me their footage and sometimes it's a challenge making sense out of it because only 40% of the footage is usable. A competent videographer can bring home 90% usable footage, and, if you're really fortunate, it will be very creatively shot using a variety of techniques, giving the editor plenty of great material to work with.
3. You should shop for the lowest price you can find. MYTH. This strategy may be fine for buying a car but it's a path to disappointment when looking for a videographer. Not all videographers are alike. They vary in experience, technique, people skills, attitude, style and customer service in the event there's ever an issue, and for the same reason, please always have a written contract.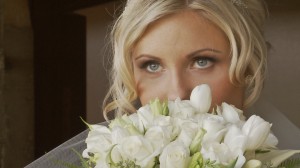 Approach extremely low prices with a bit of caution. There's a reason (that you may not be aware of) that a videographer isn't charging what others are. That's the time to check out the work carefully as well as the videographer's references. Also, try to find a full-time videographer rather than one who does it part time. Full time means he's fully committed to his business, and to you.
Unless they're a wedding video professional, accept a friend or relative's well-meaning 'gift' of a video with caution knowing that it will likely have flaws and omissions that a professional video won't have. Restricted by a very small budget when I got married, I had a friend record my own wedding (before I was in the business) and there were no shots of the cake cutting or garter toss. I did the same thing with the photographer, also to save some money, and there were no photos of my sister. (I got what I paid for, or maybe not even that). A video pro will have coordinated with your DJ or MC well ahead of time to be sure they're in sync during your event.

Keep in mind that a good image with bad sound doesn't make for a very enjoyable video. This is another instance where experience really matters.
Recommendation:  Shop value, not price. Price is what something costs. Value is how much it's worth to you. Something of value, like a good video, will increase in value over time not only because of the importance of the occasion, but because your video allows you to recollect the loved-ones who were there to celebrate with you who may not be with you forever.

4. The videographer knows best. MYTH. Well, maybe about technical things, but, if you happen to connect with a know-it-all videographer who talks your ear off about all he can do for you, run, don't walk in the opposite direction. Instead, find a good listener who is enthusiastic about your own ideas. A willingness to help you at this stage of the game is a good indication of how the experience is going to be in the long run. Be a good judge of character and remember, attitude counts.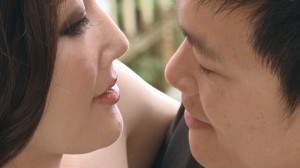 5. I don't need a video. MYTH. What you deny yourself today you won't have when you want it tomorrow. The people who don't have a video made of a once-in-a-lifetime event, are the same ones who most regret not having the foresight to make one.
Suggestion: Get out of the moment and think ahead. There are few things more enjoyable than to look back 10 or 20 years to see how everyone looked back then. Remember, your video is not only for you and it's not only for now. Consider it your magical connection to the past…forever.
Need Assistance? Access our contact form or call (310) 547-4702 for more information. See how all this information comes together and watch a video right now.