Whether you're a professional in the special event industry or simply a friend referring a videographer to another friend,  your vendor referrals carry a lot of weight. They also reflect back on you as the source of the referral. You want to be sure they're solid and for the right reasons. If you've been involved with events at all, whether you work onsite or behind the scenes during the event you know the demands of overseeing its minute-to-minute success, and you may also know the distraction of having to babysit a vendor who isn't able to keep up with the program. Here are a few tips to smooth out any possible bumps in the road.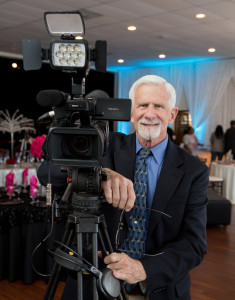 Your class "A" referral is a resourceful problem solver. He's brings with him the experience of having been through and resolved all the challenges already. Experience counts! No one wants to or has the time to be burdened by a vendor who needs to be constantly supervised.  In the case of the videographer, a few simple steps taken to create a cooperative working relationship with the other onsite professionals can ensure a gratifying experience not only for the clients and guests, but especially for the coordinator who has many other responsibilities to balance.
From the videographer's perspective, it's as simple as taking the initiative to build a bit of rapport with the DJ and the photographer early in the event at a time when successful working relationships can be built, quickly, discretely and behind the scenes.
The insightful videographer knows from experience that he is going to have to focus on the DJ's announcements to keep on track with the program without having to be reminded. He will have sought out the photographer to work out a choreography with him that allows both to complete their work in sync, working side by side. Positioning for the toast and cake-cutting are two good cases in point that bring both professionals in very close proximity. Smoothing out the path ahead is part of the experience and personality of the seasoned videographer that makes him/her a valuable asset on your preferred vendor list. It's all about knowing which steps to take ahead of time to ensure that issues that could create friction are foreseen and addressed before they can become visible problems. It's a level well above "just getting the job done." It's about ensuring that it gets done well.
Everyone needs to work cooperatively to accomplish their respective jobs with minimum supervision, and without interrupting the event flow.
Make certain you choose a videographer with the experience and professional approach that helps you succeed. The rewards are great in terms of a client's gratitude, return business, social media sharing and shining reviews.

Related Articles
Amateur Videos Can Work Against You
Top Tips For Website Video Production
Why Businesses Need Video 
How To Book Your Wedding/Special Event