"Strictly for Brides" is a series of tips and videos designed to help couples plan their wedding videography.
TIP: If you like the idea of having guests, including the kids, leave congratulatory messages for you on your wedding video, select a videographer with the right equipment to acquire good audio so that the messages can be heard over the crowd or even loud music. Minimum equipment: hand-held wireless mic for guests to speak into. A friendly demeanor, a bit of charm, and good people skills helps guests feel comfortable with the videographer who can also guide them through the interview with appropriate questions. Experience counts!
TIP: A good editor will be able to weave guests' messages into the video creating some very memorable scenes for you. (Our video gallery has several examples of this video style).
With parents cheering on the sidelines, veteran L.A. videographer, Marc Gold, directs a memorable shot of the kids (and adults) for bride and groom Derrick and Cherrie James at their Westin LAX Hotel wedding reception. Watch the 1 min. behind-the-scenes clip showing how the shot is produced (permission to publish the children's images has been granted by their parents):


Tip: A videographer who works equally well with children and adults might be just the ticket for your wedding video if you're planning to have kids at your event just because there's nothing quite as entertaining as looking back 10 and 20 years at your family and friends when they were very young.
Contact me directly for more great wedding video ideas! Call (310) 547-4702 or use our easy contact form.
SUBSCRIBE to our blog to receive updates and new articles in the Strictly For Brides series. (see upper right corner of the blog page)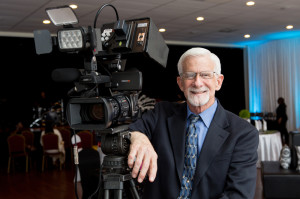 (Marc, a former public school teacher, is a long time Los Angeles and Orange County wedding videographer working out of his South Bay studio for the past 35 years).